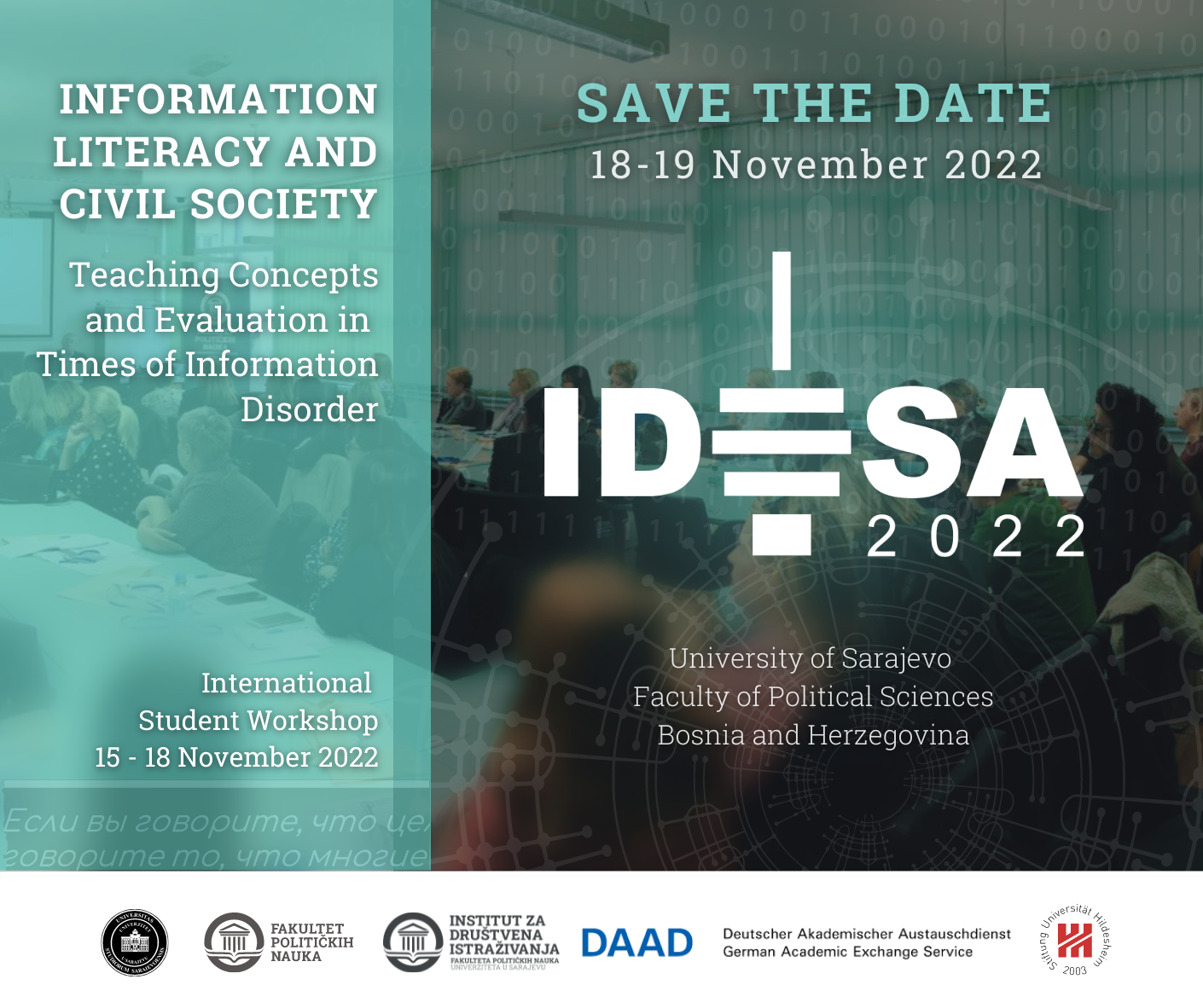 After two held IDESA conferences that addressed information literacy in the context of information professional for civic development and perspectives of MIL education, this year hybrid (online) conference IDESA will be held on 18th and 19 November 2021 in Sarajevo / University of Sarajevo – Faculty of Political Sciences.
IDESA 2022 conference – INFORMATION LITERACY AND CIVIL SOCIETY: Teaching Concepts and Evaluation in Times of Information Disorder will focus on different learning processes and teaching practices to present various strategies for navigating information pollution. While taking place during a series of international crises, the third IDESA conference offers interdisciplinary perspectives on the role of civil society in facilitating information literacy.
Students from Germany, Croatia, Montenegro, and Serbia will participate in the four-day workshop and have an opportunity to present the results of their work during the IDESA 2022 Conference.
Working language: English
DAY 1 – Friday, 18.11.2022.
09:30 – 10:00 / OPENING / Thomas Mandl (University of Hildesheim), Mario Hibert and Emir Vajzović (University of Sarajevo)
10:00 – 11:00 / KEYNOTE / Vladan Joler (University of Novi Sad)
11:00 – 11:30 / Critical success factors for Open Educational Resources – a students and teachers' perspective
Stefan Dreisiebner, Lea Wöbbekind (University of Hildesheim)
11:30 – 12:00 / Development of FPN UNSA Scientific Research Platform for MIL
Sanel Huskić (University of Sarajevo)
12:00 – 14:00 / BREAK
14:00 – 15:00 / Podium Discussion / Bojana Kostić, Feđa Kulenović, Tijana Cvjetičanin, etc. Local representatives of NGOs, media, etc.
15:00 – 16:00 / Information Literacy and Civil Society, workshop results: reflection of student's group work and reports to the plenum
DAY 2 – Saturday, 29.11.2022.
10:00 – 11:00 / To be confirmed
11:00 – 11:30 / Information literacy as a complex concept and as a simple heuristic
Joachim Griesbaum (University of Hildesheim)
11:30 – 12:00 / Marko Stojanović (WB-Institute)
12:00 – 14:00 / BREAK
14:00 – 14:30 / Digital inclusion – The importance of digital skills for social participation
Violeta Trkulja, Grenzenlos Digital e.V. (Berlin)
14:30 – 15:00 / Podium Discussion / Representatives of Schools, Libraries and Scientists (Didactics, Information Science, Political Science)
15:00 – 15:30 / Croatian Librarians Herald: promotion of edited journal number "The end of digital beginning" Vol. 65, No. 2 (2022)
Tatjana Aparac Jelušić, Editor-in-Chief, Guest editors: Martina Dragija Ivanović (University of Zadar), Mario Hibert (University of Sarajevo
15:30 – 16:00 / CLOSING REMARKS